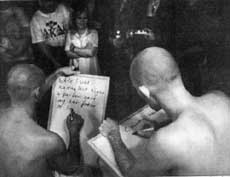 The urban dream capsule is four men who will live in a series of shop windows completely exposing their lives to audiences, for the 18 days.

The event commences on the 11th July, the Flemish National Holiday and will finale at the end of the festival 27th July 1998.

It is a 24 hour a day total experience and follows up the enormous hit the event had for the 1996 Melbourne International Festival, in Australia.